Shopify makes it super easy to get set up to sell online right out of the box. And, did you know that there are also hundreds of Shopify apps available to help you grow your business?
But, with hundreds of Shopify apps out there, it can be hard to find the ones that will actually help you increase sales.
We know that your revenue can't grow without the right tools, so we've done a ton of research to find the best Shopify apps to increase sales.
Shopify plugins extend the functionality of your eCommerce store. The best thing is these small Shopify addons are incredibly easy to install on your site, and they're great tools for giving your online store more features.
These apps will help you promote your store, sell your products, reward your customers, and handle inventory and shipping so you can earn more revenue.
⚡ And many of them are free! ⚡
So, check it, our list of must-have apps for Shopify store owners. We've even broken it down into categories to make it easier to find what you need, with our top picks for each.
What to Look for in a Shopify App
If you're just starting, it can be really tough to know what to look for when you're trying to choose the right Shopify addons for your site.
Here are 3 simple things to check when looking for the best Shopify apps:
User Reviews and Ratings: User reviews and ratings are an excellent source of information on how the app works. Plus, they're generally pretty reliable, and you'll be able to see how, or if, the creator of the app responds.
Customer Support:  You want to make sure that you have the support you need so you can keep your store up and running for your customers
App Screenshots: Shopify app screenshots let you see what the interface looks like and will let you know if it's something you'll enjoy working in.
Now, let's look at some of the most popular Shopify addons.
Best Shopify Apps for Marketing and Promotions
First, let's start with the best Shopify apps to promote your store.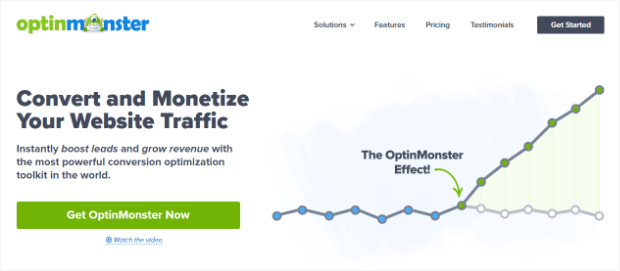 OptinMonster is the best Shopify app that makes it easy for you to convert your visitors into customers. It's the best conversion optimization tool that lets you drive more email subscribers, reduce cart abandonment, and increase overall sales conversion.
Of all the marketing apps on this list, OptinMonster's ability to instantly lift sales easily makes it one of the top apps, just see the results below:
OpitnMonster app seamlessly works with Shopify, and it has 1-click integrations for all the top email marketing services and CRM software.
The process is very simple. You log into OptinMonster to create a dynamic campaign such as popup, floating alert bar, slide-in scroll boxes, or even gamified spin to win campaigns.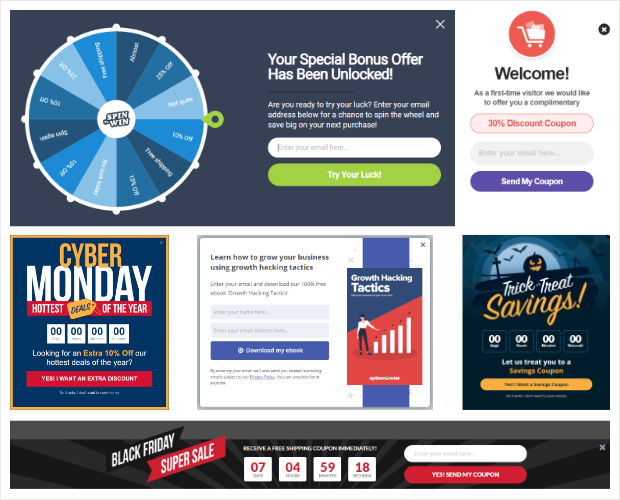 OptinMonster comes with dozens of pre-made templates that are proven to boost conversions, but you can use the drag & drop builder to customize any designs based on your needs.
Its eCommerce templates let you offer discounts, coupons, combat shopping cart abandonment, generate leads, and other special offers that have been proven to increase conversions.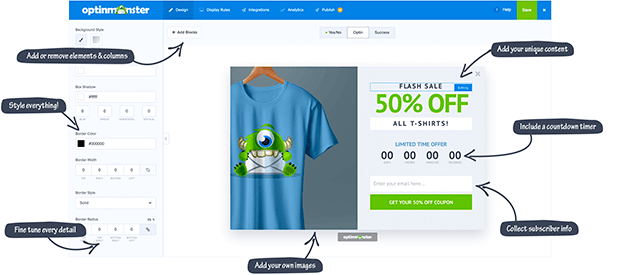 After that, you can use one of OptinMonster's powerful personalization and targeting display rules to show the right offer, to the right person, at the right time. Here's an example of some Shopify specific targeting rules: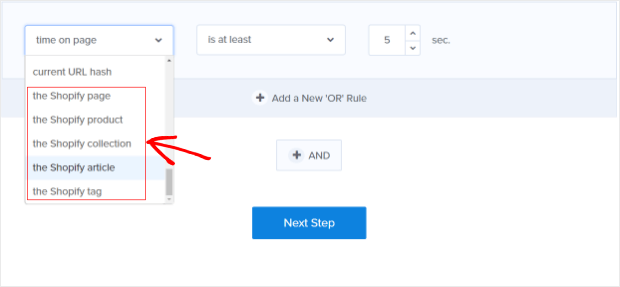 But it goes way beyond that. Here are some more powerful features that users love:
Reduce cart abandonment using Exit-Intent® Technology or InactivitySensor™, gathering email addresses or showing an offer just before visitors leave your site.
Increase sales and conversions with interactive Spin A Wheel campaign (gamification).
Show targeted promotions like free shipping banners, sales, and more based on referral source, geo-location, previous onsite behavior, user's device, etc.
Use what you already know about your visitors to run OnSite Retargeting® campaigns and improve conversions.
Integrate with your favorite email marketing, content management, and CRM platforms, to automate your business.
If you're serious about jumpstarting your eCommerce business growth, then get started with OptinMonster today!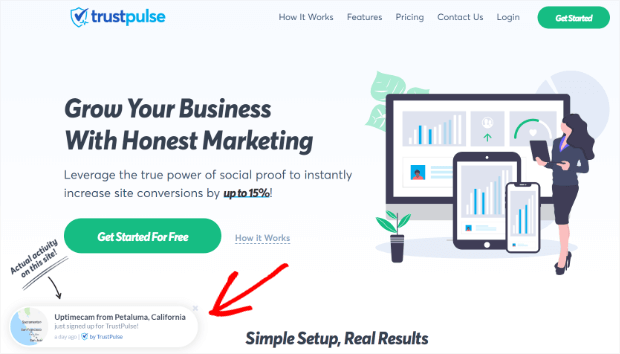 TrustPulse works to leverage social proof and builds trust with visitors to your site by showing a small popup notification of real-time activity other users have taken while on your site.
Shoppers are more likely to trust recommendations from other shoppers over advertisers (92% more likely, in fact!) when it comes to purchasing decisions. With TrustPulse, you can use real activity from real people to increase your site conversions by up to 15%.
Key Features:
Real-time event tracking for purchases, demo registrations, email lists signups, and more
Smart targeting to boost conversions using advanced targeting rules and timing controls
"On fire" notifications to show how many people are taking action in a given period
Flexible design options to match your site's branding
Actionable analytics to get the stats you need to boost conversions
Easy setup on any website with no coding needed
TrustPulse is free for up to 500 sessions (single browser or device visiting your site) per month. Paid plans start at $4/month for up to 1,000 sessions to $350/month for up to a million sessions. Or, ask for a custom plan!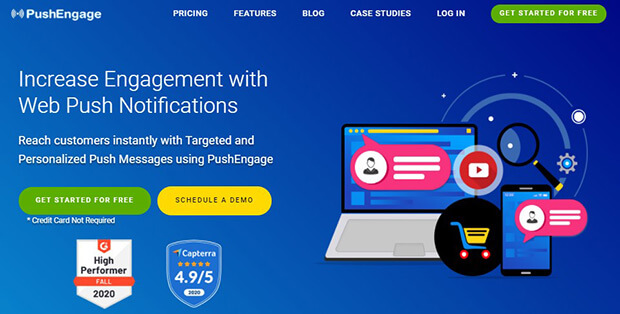 PushEngage is a push notification app that lets you increase your Shopify sales. You can send custom notifications on your Shopify site to combat cart abandonment, re-engage with users when they're on the site and ultimately drive more traffic.
The best thing is that you can easily install PushEngage with one click.
A few web push notifications you can send to your visitors are:
Alert your visitors when there's a drop-in price
With inventory alert, update users when the product is back in stock
Send notifications to the well-targeted segments for higher open rates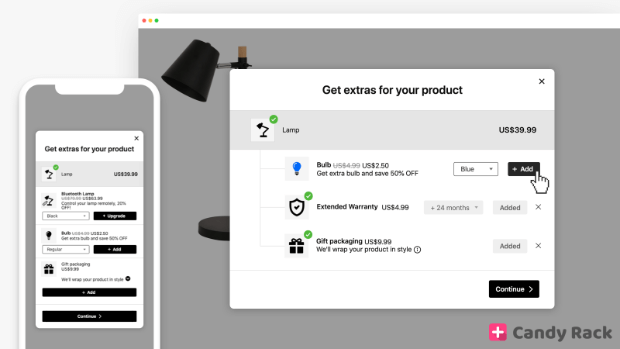 Candy Rack is one of the best upsell/cross-sell Shopify apps available on the market. And, if you're not upselling or cross-selling your customers, you're leaving money on the table.
Upsells are offered via a non-intrusive popup on the product page that's shown after the shopper clicks on the Add to Cart button. The popup uses a tree layout, so each upsell or cross-sell looks like an add-on to the parent product.
Besides the unique approach to offer upsells, Candy Rack also provides a lot of extra features like true upsells (upgrades), auto-upsells (based on the Shopify Product Recommendation API), and design/messaging customization.
Candy Rack starts at $39.99 per month with a 14-day free trial.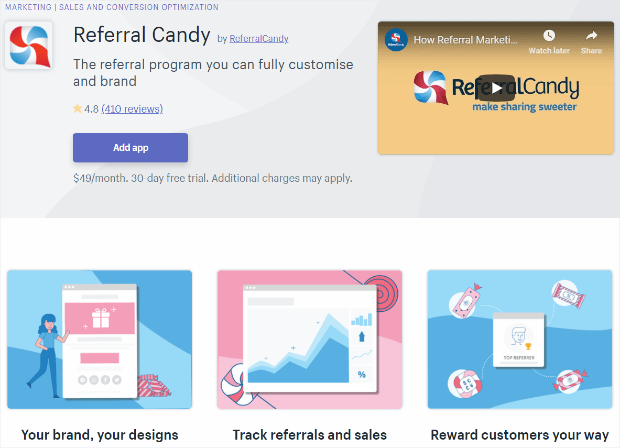 Did you know that every happy customer will tell nine more? So, if you're not using referral programs, you're missing out on sales.
Referral Candy is one of the best Shopify apps to give your customers incentives to refer their friends. You can choose the reward of your choice for unlimited referrals.
The Referral Candy system includes automatic reward delivery and referral reminders, as well as a dashboard where you can track referrals. This app starts at $49 per month.
Want to learn more about your customers' secret thoughts so you can drive even more sales? Here's how you can create a WordPress survey popup with OptinMonster.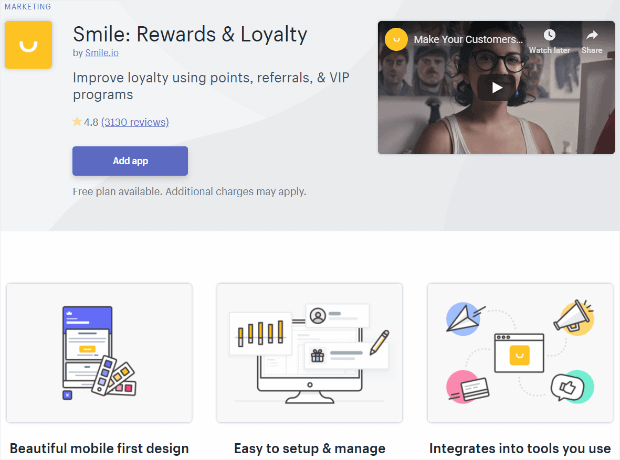 Whether customers stick to one brand or not, loyalty programs can be a huge draw. Customers enjoy engaging with brands, as well as the personalized service and rewards that come with these programs.
With Smile.io, you can offer a loyalty program on your Shopify store to create more loyal customers who boost your bank balance with repeat purchases.
Smile.io lets you issue reward points based on creating accounts, sharing products on social media, following your brand, and more.
These features are available for free, but you can upgrade to give additional rewards to your VIP customers and to enjoy full customization of your reward program. Upgrade pricing starts at $50 per month.
Want to keep the interaction going after your customers open their accounts? Check out our guide to the 7 types of emails that keep customers coming back.
Best Shopify Apps for Email Marketing
These addons give you the tools to create email campaigns that increase your Shopify sales.
Constant Contact is one of the largest email marketing services. It's a great Shopify marketing tool with features like a drag and drop builder, templates, email automation, and A/B testing. Constant Contact's Shopify plugin lets you personalize emails based on purchase history and view how much revenue your emails are driving.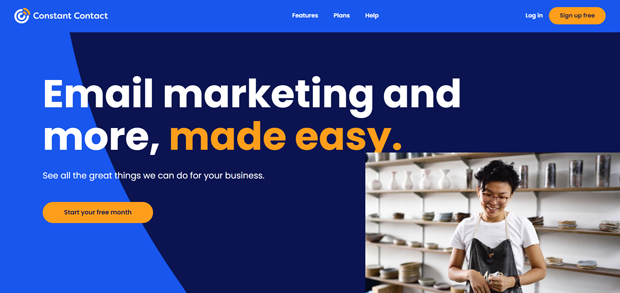 SendinBlue is email and SMS software for businesses. When you sync with Shopify store with SendinBlue, you'll be able to run targeted Shopify marketing campaigns. SendinBlue's Shopify addon lets you segment your subscribers based on their purchase history.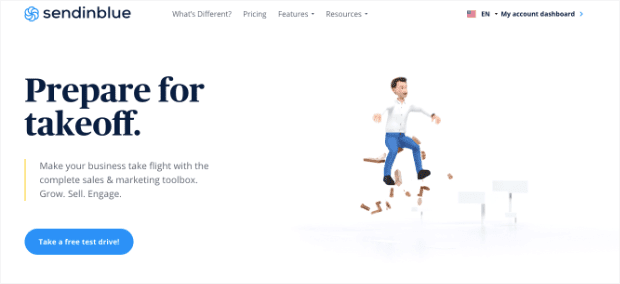 Drop is a powerful marketing tool that connects to Shopify. With Drip, you can automate your emails and segment your subscribers. Drip's Shopify addon allows you to easily collect shopper feedback and set up abandoned cart email campaigns. From the dashboard, you can view which emails are driving the most Shopify sales. And Drip really lets you dig into the detail. You can drill down into revenue per person for each email.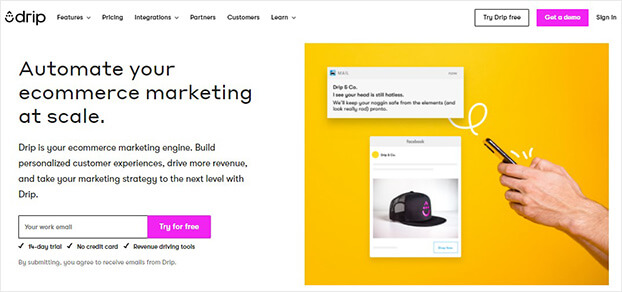 Best Shopify Apps for Marketing
Shopify marketing apps help you create engaging content that improves your visibility online.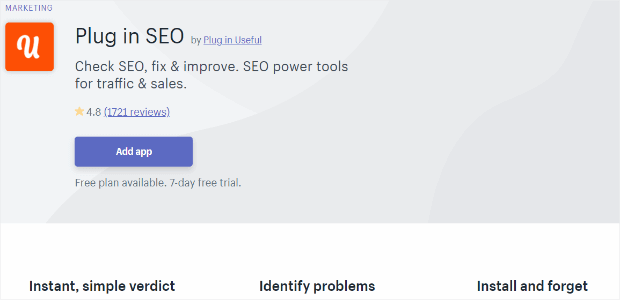 Plug in SEO is our pick for one of the best free Shopify apps because it helps you find, troubleshoot, and fix search engine optimization (SEO) issues so you can get more web traffic to your online store.
This free app automatically checks for issues with page titles and descriptions, structure, speed, and more. It includes code snippets you can use to fix any problems yourself.
If you need additional features, like bulk editing, structured data support, and multilingual SEO, you'll need to upgrade to the pro version of the app, which is $20 per month.
Learn more tips to rank higher in search results in our Shopify SEO guide. Or, breathe life into your outdated SEO with these new SEO best practices.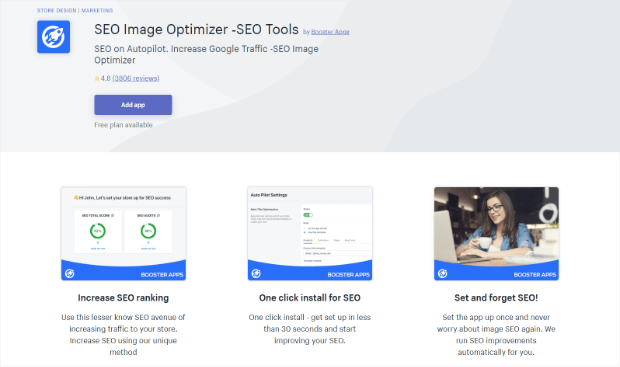 Did you know that more than 26% of searches happen on Google Images?
That's why you need a Shopify app like SEO Image Optimizer. This app includes a one-click install to get you up and running in under 30 seconds. It has 2 plans: a FREE plan and a Pro plan ($24.99/month).
The Free plan includes everything you need to get your images optimized for search engines: alt-text optimization, unlimited image sync, and even checks new images weekly. With the paid plan, though, you get all that plus metatag optimization, target keywords for your images, and redirection URLs, so broken links are a thing of the past.
Plus, the Pro plan automates filling out and fixing details you may have missed!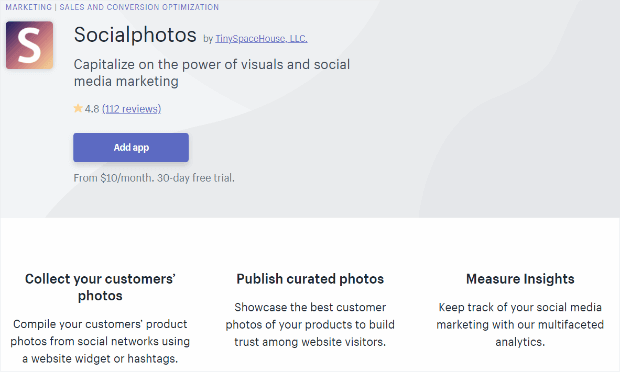 Want to drive more Shopify sales from Instagram? Social Photos could be the app you've been looking for. This app helps you feature your customers (making them happy) and get an awesome kind of social proof called user-generated content at the same time.
When customers tag photos of themselves using your products on Instagram, Social Photos automatically collates them into a gallery. Every photo can then be used to sell products through direct links, driving more sales.
You can highlight the best customer photos to encourage new customers to buy, and can also create themed products images galleries. Social Photos also lets you interact with Instagram photos from the page where the photos appear.
Related Content: How to Make Money on Instagram (Without 10K Followers)
You can find Social Photos in the Shopify app store starting at $10 per month for the basic package, and it goes up to $50 per month for the full range of features.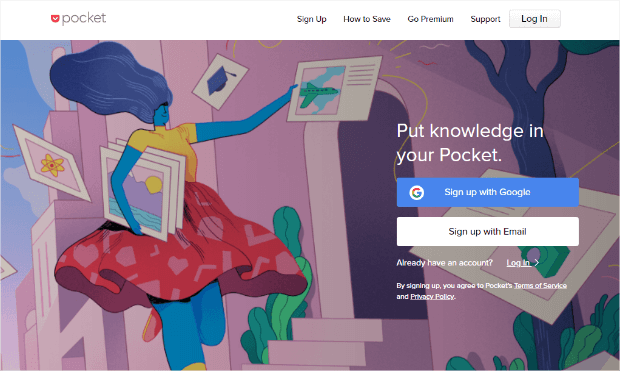 Pocket is more of a personal content curation tool, but it's a great Shopify marketing app. After all, you need research for knowledge and inspiration, right?
This browser bookmarklet lets you save content quickly and tag it so you can easily find it later. You can save to Pocket from your computer and view your saves from any device. Seriously. It's available on just about every smartphone and e-reader around. Plus, Pocket is integrated with more than 1500 apps!
It's an excellent way to keep a stash of content on your favorite topics, and you can get it for free. If you want an ad-free experience, that'll run you $4.99/month (or save 25% and get a year at $44.99).
Best Shopify Apps for Sales Channels
Once you have marketing and promotions all set, you'll want to make sure you have the best sale apps for your Shopify store.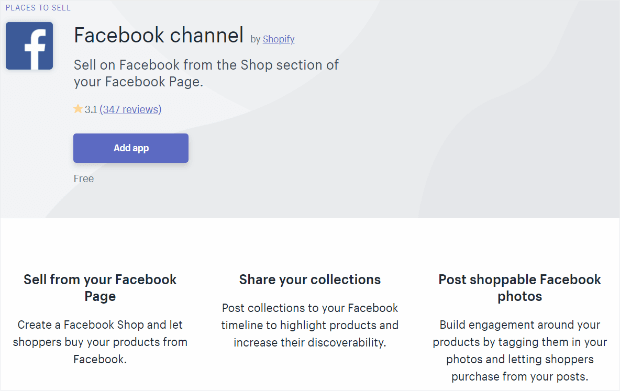 While email marketing is more effective than social media at driving sales, social media is still an important referral source for online stores. In fact, both Facebook and Twitter can help you gain product recommendations and actual sales.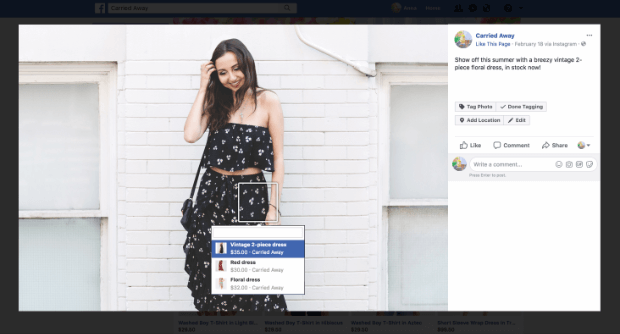 That's why Facebook Channel makes our list of the best Shopify apps to increase sales. It lets you use your Facebook presence to drive sales, setting a Facebook store up in just a few clicks. With Facebook Channel, you can highlight products on your Facebook timeline and let shoppers purchase products directly from your posts.
Facebook Channel is a Shopify free app.
Check out our guide to getting traffic from Facebook to get even more sales from your Shopify store. You can also create a custom "Like Us On Facebook" popup to drive traffic from your website to your Facebook business page!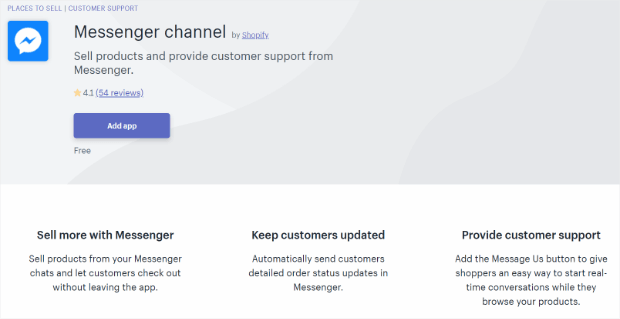 With the growth of messaging apps and smart speakers, conversational commerce continues to grow at a rapid pace. Take advantage of this trend with the Messenger sales channel app for Shopify.
With this FREE Shopify app connected to your online store, you can add a "message us" button to your online store, making it easy to have real-time conversations with your customers. But it doesn't end with real-time communications.
Shoppers can also browse products and make purchases from your Messenger chat, and you can send automated order updates.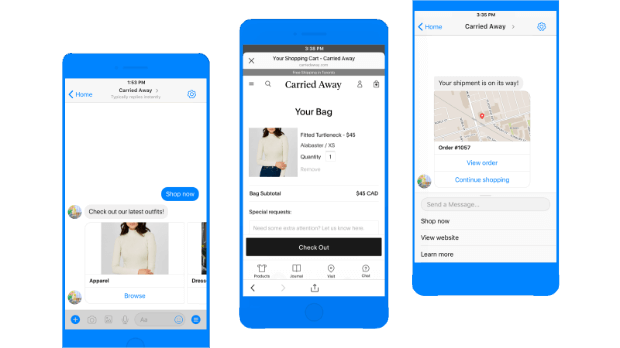 You'll be able to fulfill Messenger orders from Shopify and track Facebook sales in your sales channel overview and Analytics pages.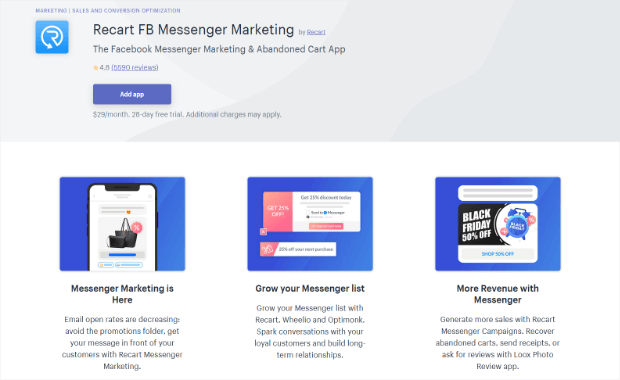 Recart FB Messenger Marketing is a premium Shopify app built for Facebook Messenger marketing. This app makes it easy to grow your Messenger audience and claims to convert visitors into subscribers at a 5-14% conversion rate.
Recart uses Smart Display so you can show it only to users that are logged in, making the one-click Facebook Messenger opt-in always available. Additionally, Recart offers an extensive collection of automated campaigns for Messenger, including abandoned cart reminders, shipping notifications, welcome messages, and order receipts.
This Shopify app has a 28-day free trial, and pricing starts at $29/month. A word of caution: pricing scales with extra sales, so the more money you make with the app, the more you're going to pay.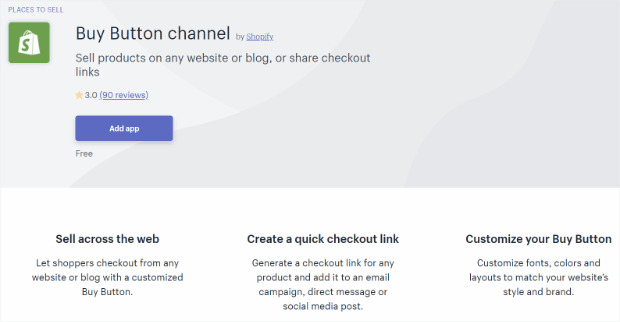 The free Buy Button sales channel app is simple but effective. You can use it to create a customized buy button that you can put anywhere to let shoppers purchase with a click. No muss, no fuss.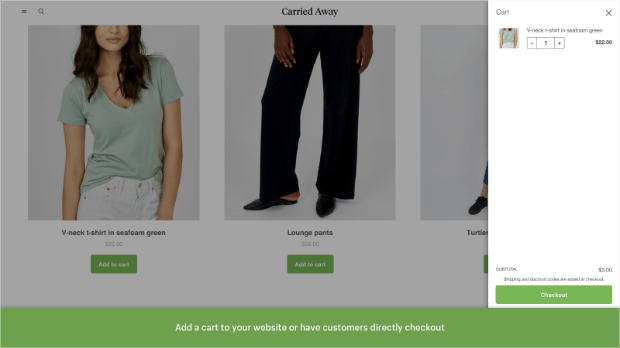 You can change the button colors to match your brand, create custom checkout links for any product, and update details on your product pages from Shopify without needing to edit any code on your eCommerce store or blog.
With the Buy Button, you can fulfill orders made with both the buttons and just the custom checkout links. And, you can track sales using your Home sales overview and Analytics pages.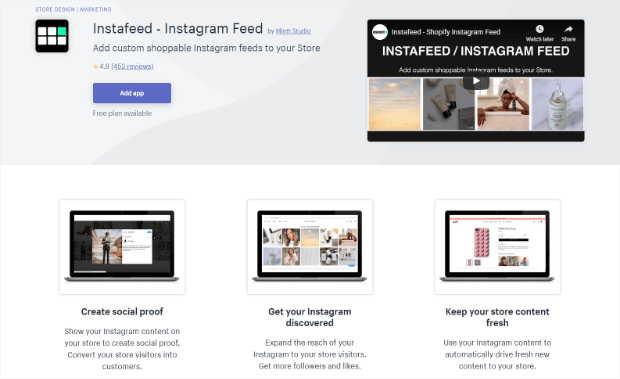 Instafeed helps you keep your store content fresh, using your Instagram content to drive fresh content to your store automatically. You can show off your Instagram content the way you want, making it blend seamlessly with your store's design.
This Shopify app includes image and video support, automatic Instagram feed updates, and it's fully responsive and lightweight. The Pro version also lets you tag products on your posts, filter your posts by hashtag, and publish to multiple Instagram feeds.
There's a free version of Instafeed and two paid versions. The Pro plan is priced at $3.99/month, and the Biz plan is $9.99/month.
Best Apps for Shopify Customer Service
Next, let's look at the top apps for customer service.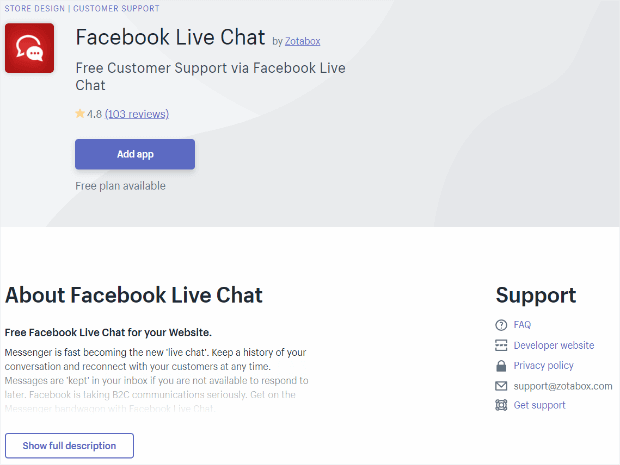 Live chat has become an important customer service and customer feedback tool. According to recent surveys, businesses say offering live chat has had a positive effect on sales, revenue, and customer loyalty. And with more than 2 billion users, Facebook is one of the best social media sites to connect with your customers.
Related Content: Live Chat Best Practices: How to Streamline Customer Service
The Facebook Live Chat Shopify app lets you support your customers on your Shopify site by using Facebook Messenger for customer service. The app also integrates with other social sites and features a user-friendly, responsive design.
This app is free for up to three websites, with upgrade packages ranging from $9.99 to $49.99 per month.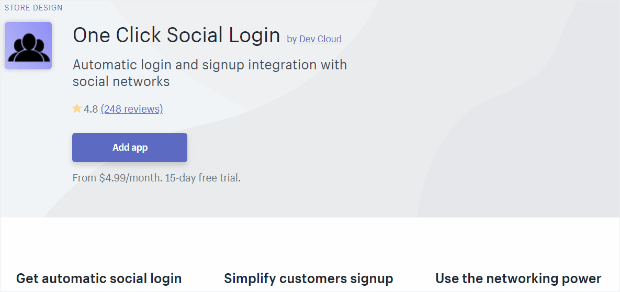 The easier you make it for customers to create accounts, the sooner you can offer them the right products and make sales.
One Click Social Login lets your customers create accounts on your Shopify store by logging in with their existing social media credentials. Accounts supported include Facebook, Twitter, LinkedIn, Pinterest, Amazon, and many more.
There's also an easy admin panel so you can easily configure the simple settings.
One Click Social Login starts at $4.99 per month, but you can upgrade to see your customers' social profiles and make additional customizations.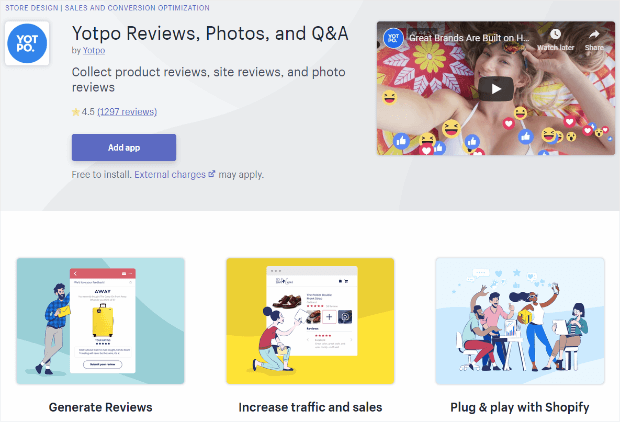 Yotpo consistently ranks among the best apps to increase sales because it helps you get more product reviews to drive purchases from social proof.
This app lets you easily send out requests for customer reviews and showcase reviews in widgets and store tabs. You can moderate all reviews received, and can also use Yotpo to get social media traffic to your store.
Yotpo is free, but if you want additional features such as user-generated photos, rich snippets, and more, pricing starts at $29 per month.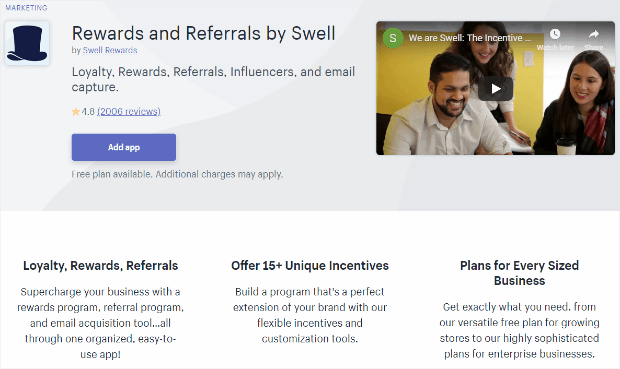 One of the reasons we've included Swell, even though there are both rewards and referrals apps already on the list, is because it has so many integrations. As well as working with Yotpo, which we mentioned above, it works with Facebook, Hubspot, Mailchimp, and more.
Swell says its users have doubled business from existing customers, thanks to rewards for writing reviews, referring new customers, creating accounts, making new purchases, and more. You can also reward social media interactions such as likes and follows.
Swell is free for up to 100 orders each month. After that, plans start at $29 per month.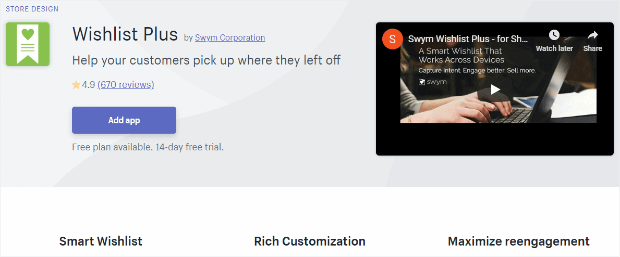 Wishlists are a great way to learn more about what your customers want, so you can connect with them to make more sales. Wishlist Plus lets you collect information about customer preferences, and they don't even have to be logged in.
This app integrates with your Shopify store and enables you to keep track of items and engagement within a dashboard. For customers, Wishlist Plus is a hassle-free way to store their desired purchases and even share those with others.
Wishlist Plus is free for up to 100 items, then plans range from $9.99 to $29.99 per month.
Want to get even more from your online store? Check out our guide on how to write a sales page that converts.
Best Shopify Apps for Products and Inventory
This category includes apps to help you manage your product catalog, plus the periods before and after shipping.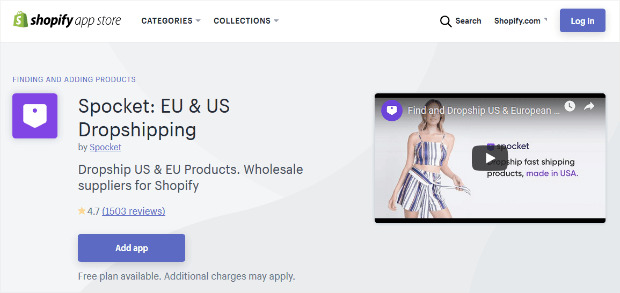 Spocket is a dropshipping marketplace that's easy-to-use, quick, and updated regularly. It offers fast shipping of hundreds of thousands of products from more than 20,000 reliable suppliers.
With Spocket, you get one-click order fulfillment, flat-rate shipping, and real-time order tracking, all big-time customer pleasers!
And, in the rare event that something does go wrong, Spocket has a dedicated support team that is ready to help you get it resolved quickly and painlessly.
You can get started with 25 products for FREE, but up to 250 products are only $29/month (or $69/month for unlimited products!).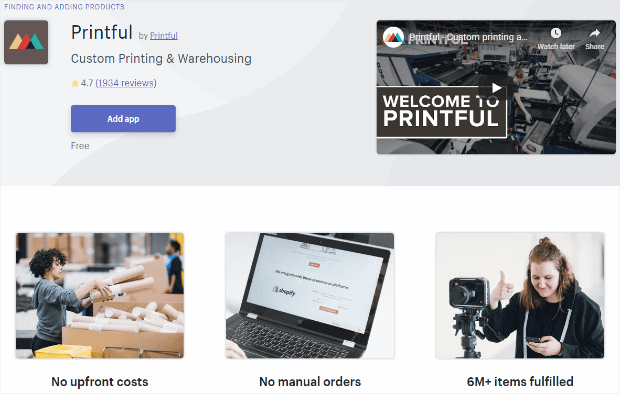 If you want a Shopify store without the need to warehouse your own products, Printful can help. This app provides print-on-demand designs for T-shirts, bags, mugs, and almost anything else that can be printed. They've even got designers who'll help you create the most appealing products.
Once they're ready, just take orders from your store, and Printful will send them out. No need to manage inventory or print shipping labels. It's a great way to make sales with no hassle. Cost varies depending on the product to sell.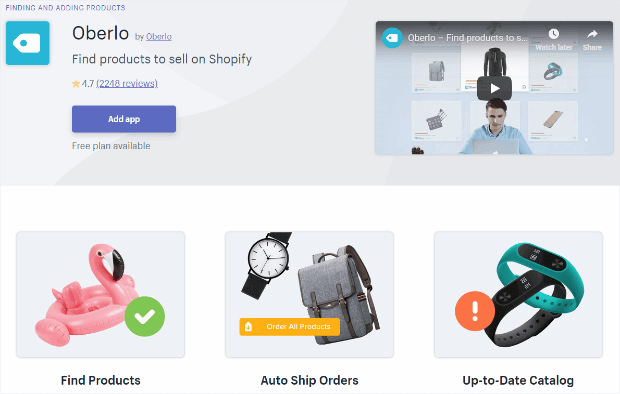 Oberlo offers a similar service to Printful by letting you add products to your store and dropshipping them straight to your customers.
But with this app, you're not limited to items that can be printed. You can choose products from AliExpress and the Oberlo Marketplace and add them to your store with a couple of clicks.
Oberlo offers automatic order fulfillment and inventory management. You can also customize products, connect Oberlo with your existing products, and even allow other people to help run your store.
Oberlo is free for 500 products and up to 50 orders per month. For additional products, orders, and features, you can upgrade at between $29.90 and $79.90 per month.
To get more from using Oberlo products, check out our tips on how to skyrocket your eCommerce sales with email marketing.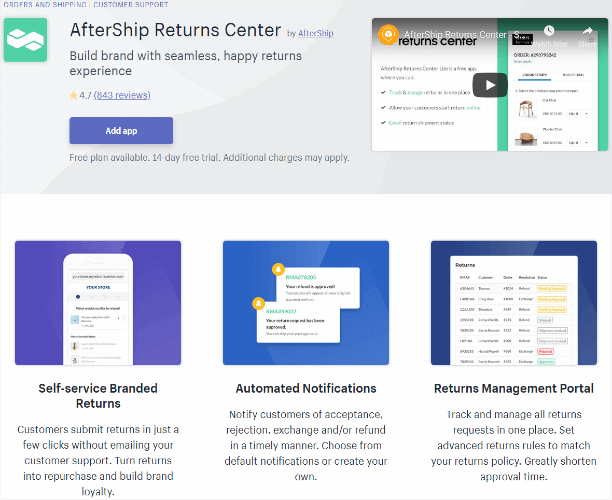 Sometimes your customers will want to return a product, but it can be a pain to manage the process. AfterShip makes managing product returns easy.
It gives you a branded returns center that lets customers submit returns in a couple of clicks. Later, it'll automatically inform them of the status of their returns and any refunds.
This is one of the best Shopify apps around, and it's free for 5 returns per month. Paid plans start at $9 per month.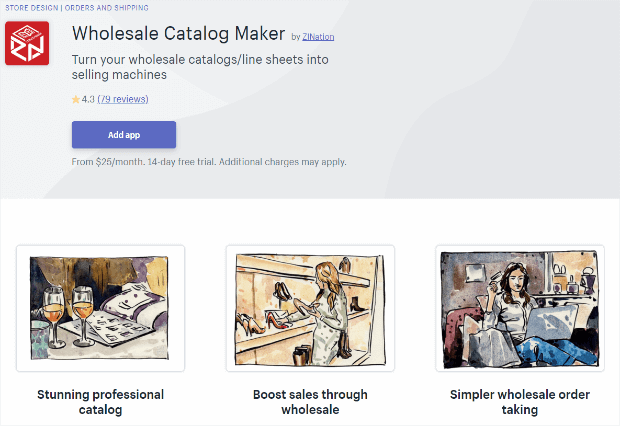 A product catalog is a great way to show off your product images and boost sales, but how do you create one? If you're not a great designer but have a lot of products, you need a tool that makes the process easy. Catalog Maker could be that tool.
It lets you quickly create professional-looking catalogs from your Shopify collections, and you can use drag and drop editing to create a catalog with one of the app's templates.
In addition to catalogs, you can create invoices, receipts, product recommendations, and even thank-you notes. Pricing starts at $25.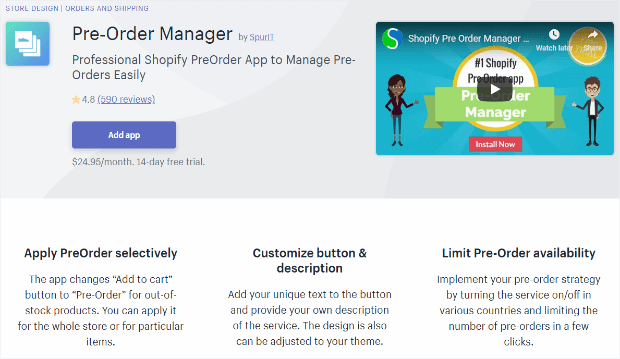 When you generate buzz with your seasonal or holiday email marketing, it's useful to let people pre-order items from your store. And pre-orders are a great way to figure out which products are most likely to be successful.
Pre-Order Manager lets you take advance orders from visitors to your store with a pre-order button for out of stock items. You can edit button text, change the setting by location, and even turn pre-orders on and off storewide. You can also limit the number of available pre-orders for any product.
Pricing for Pre-Order Manager starts at $24.95 per month after a 14-day free trial.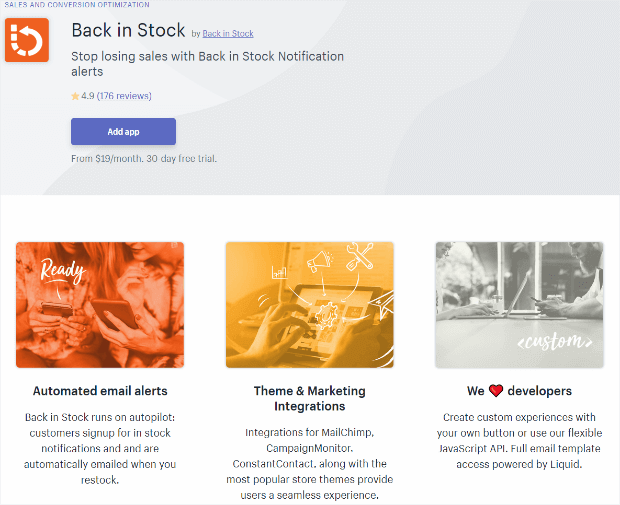 Sold out of your best products? With Back in Stock, you don't need to lose sales. Our last app in the list of best Shopify apps lets your customers sign up to be notified when a product they want is back in your store. Once it is, they get an automatic email notification.
This easy to install app also helps you understand which products are most popular so you can manage stock levels. You can also customize any aspect of the app to meet your needs.
Back in Stock starts at $19 per month, with plans up to $79 per month.
Best Shopify Apps for Payment Plans
Our last category includes Shopify apps that help you get set up to accept recurring and partial payments. This means that you can let shoppers spread out payments on high-ticket items or set up recurring payments for subscription services.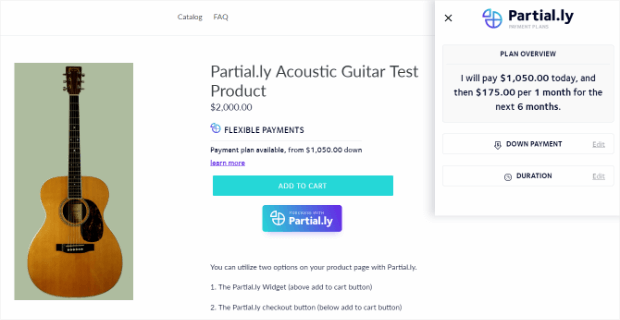 Partial.ly gives shoppers the option to complete their purchase using standard checkout or with Partial.ly payment plans. If they opt for Partial.ly, once they enter their payment details, the order automatically gets added to your Shopify admin, and all future payments are timed and automated.
As the store owner, you have full control over the fee, down payment, term, and payment frequency. You can also allow shoppers to set up automated or manual payment plans.
Partial.ly integrates with Stripe, so you're covered to accept all major credit cards plus a lot more, and it's free to install. They charge 5% + $0.30 per transaction.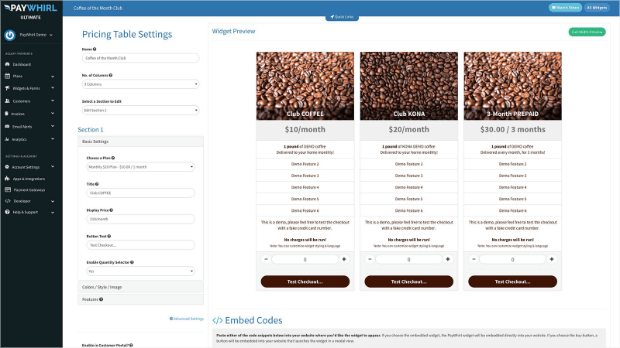 With PayWhirl Recurring Payments, your customers will be able to manage their own account details, update their payment and credit card information, add or remove payment plans, and purchase subscriptions on their own, saving time for you and reducing friction for your customers.
For subscription services, PayWhirl has a "Build a Box" feature that offers shoppers customizable subscription packages, which is a super cool feature. Subscription boxes are HUGE right now, and allowing shoppers to customize their subscription box could be used as an upsell. FabFitFun does this successfully with their subscription boxes.
PayWhirl Recurring Payments has a ton of other features like a failed payments management system, upsell funnels, trial periods, and more. The Shopify app does have a free-to-install version for Stripe; other plans include all payment gateways and start at $49/month and have a 14-day free trial. Successful transaction rates start at 3% and go down to 0.5% as monthly plan costs increase.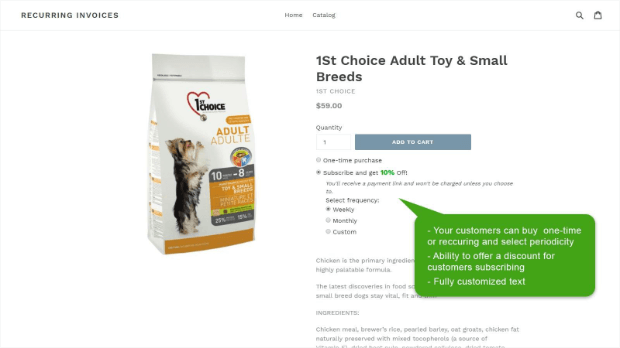 Recurring Payments allows shoppers to buy subscriptions, purchase using payment plans, or pay invoices without login or registration. For subscription customers without an account who want to cancel, they can do so easily by clicking the unsubscribe link in their subscription confirmation email.
Instead of automatically billing customers, this app allows eCommerce business owners to automatically generate invoices that customers can then pay using whatever method they choose at the time; there's no need for customers to remember to make changes or updates to their payment methods in their account.
Recurring Payments is $15.95/month with a 14-day free trial.
That's it! Now that you know the best Shopify apps to increase sales, why not get even more sales from your store with a successful email marketing campaign? You can also improve store promotion with these promotional email examples. And, check out our tips on Shopify abandoned cart recovery to boost your revenue.
Not sure if Shopify is right for you? Take a look at the best Shopify alternatives!